Posted at 18:00 on 24th September 2019 by Mark Welland in News
'Be who you are' at DBS, Thailand
Denla British School, Bangkok, Thailand
Cool4School officially launched and showcased in Thailand at
Denla British School
. We provided a staff CPD made possible by Anna Gower. Many will know of her as the music education guru of Musical Futures International.
What a day! This is what we did.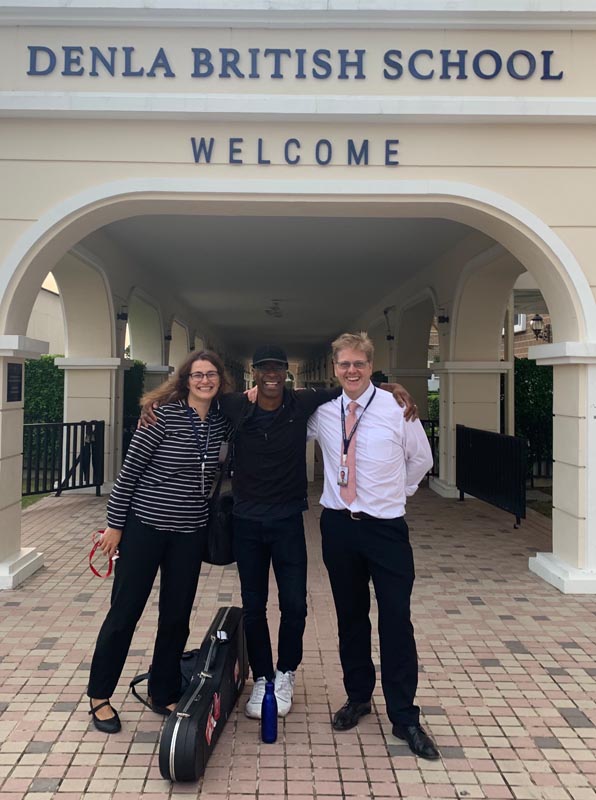 CPD Sessions
Isabella Mayne is Head of Music at DBS, and has been recently joined by James Gower. Yes, very much related to Anna! The facilities are amazing. Large rooms, well resourced. Isabella and James strike you immediately as open-minded, open-hearted and extremely good at what they do.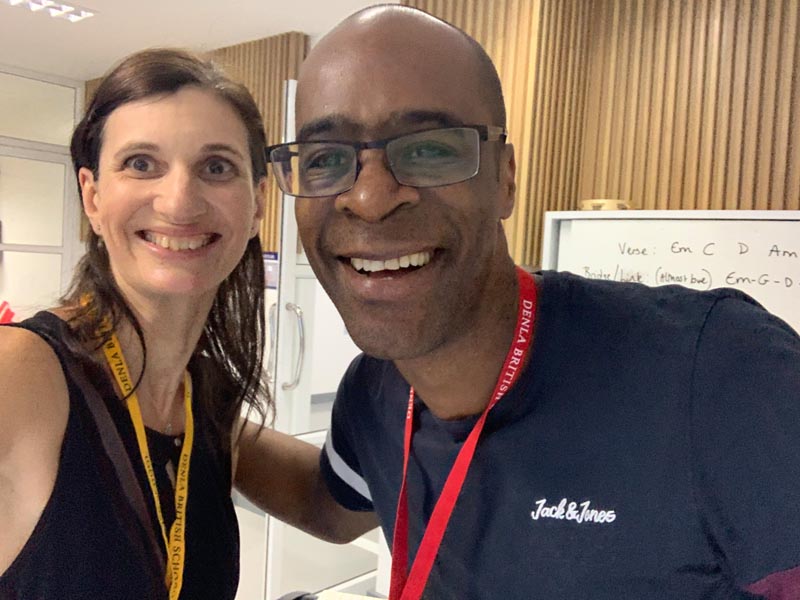 The hour long sessions were for early years through to Year 2 teachers and their teaching assistants. The sessions were wholly interactive. The emphasis was to show how Cool4School could be used by non-specialist staff to help cover a wide range of the schools themes. The wonderful thing was seeing how the songs ticked so many boxes.
The school themes for the year are:-
Be who you are
Turn the page
Planet Earth
Our future
I wonder
Imagine
Sessions
Early Years - Ghosts
Ghost sounds, creaking floors, skeleton movement and monsters!
One of the current topics was 'Haunted Houses'. Here we are doing the Ghosts song. The staff loved the fact they could easily follow the video and join in. Not only does the movement help kids with rhythm but the whole process demonstrates why interaction, singing, voice sounds and movement aid so much in the development of learning principals.

Themes
We learnt a song called 'Who I Am', which is one of the songs I recommend as a school song. We also looked at song & dance by learning an African tune called 'I Feel Free'.
Here we are exploring sounds and movement in the 'Animal' song.
Teacher confidence
It was wonderful to see James immediately feeling comfortable using the Ghosts song in his own lesson. We discussed, along with Isabella their intention of developing extension ideas on top of the song, such as exploring dynamics and textures. At the end of the session one of the teachers could immediately see how she could apply these songs and asked for a login to use with her class the very next day.


Feedback:

Isabella sent us feedback "that the sessions were fantastic!!! The teachers are really buzzing and we have been trying Ghosts with Year 2 as part of our Haunted House topic."
Here's to DBS International School, Thailand!