Posted at 15:00 on 24th September 2019 by Mark Welland in News
Bromsgrove Beats in Bangkok
with Marcel Pusey and Jeremy Meddows-Taylor
The Bromsgrove International School
, Bangkok, Thailand, lies in the grounds of a golf course. It is a vast campus. The music department is subsequently huge, with a state of the art theatre. The Head of Music is Jeremy Meddows-Taylor, a truly lovely, enthused musician and educator assisted by a very funky guy called Mike.
They made me feel incredibly welcome.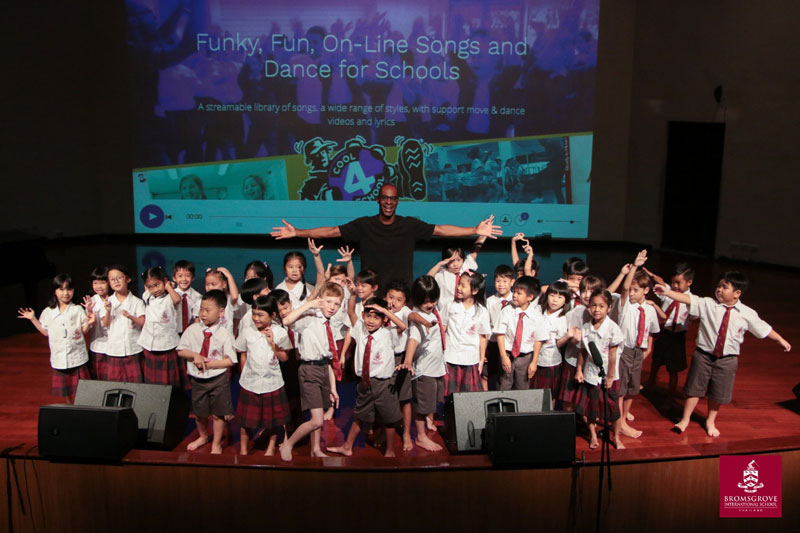 Sessions

Early Years – Year 6. We were joined by Year 11 and 12. After school, I spent time helping out with the Rock School (Year 7 to 13).


Rhythm Warm Up Exercises
It is a great way to start the workshop, emphasising the importance of being able to play in time, the pulse and playing in a 4 beat bar. The rhythm games and exercises I have created in GarageBand look at 'rests'. A perfect warm up to help the kids relax and focus.
Early Years
The songs, 'Animals' and the 'Ghost' are a perfect starting point for the youngest kids. They are fun, energetic, with movements acting as a great device to help students with timing and rhythm. They also explore different ways the voice can be used by making different sounds.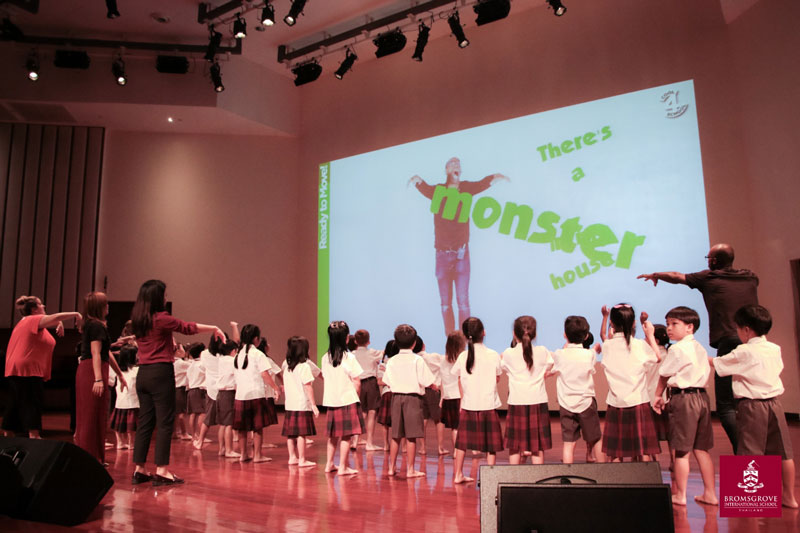 Year 3
The 'Rain Dance' Tribal rhythms is huge workshop favourite, great moves. It's a great warm up for any year group. 'Angel' is a beautiful African song. The melodic movement and the vocal range of the song is ideal for Years 2 and 3's. There is a fun short dance at the end creating rhythms with arms and feet.
Year 4-6
Jeremy mentioned that his students were not very familiar with song, dance and movement. We wanted to demonstrate how Cool4School could get the students moving without feeling self-conscious. 'I Feel Free' is an African, high-energy song with really funky moves. This level of funkiness even got the older Year 11 and 12 students to get in the groove.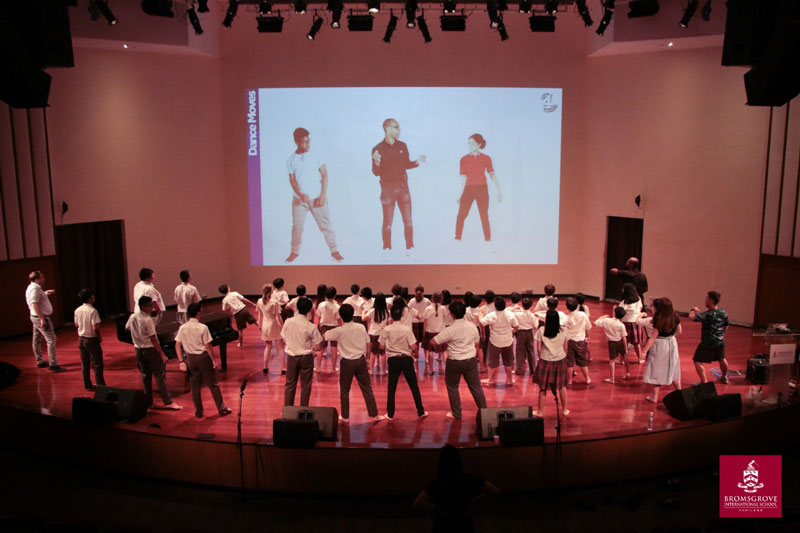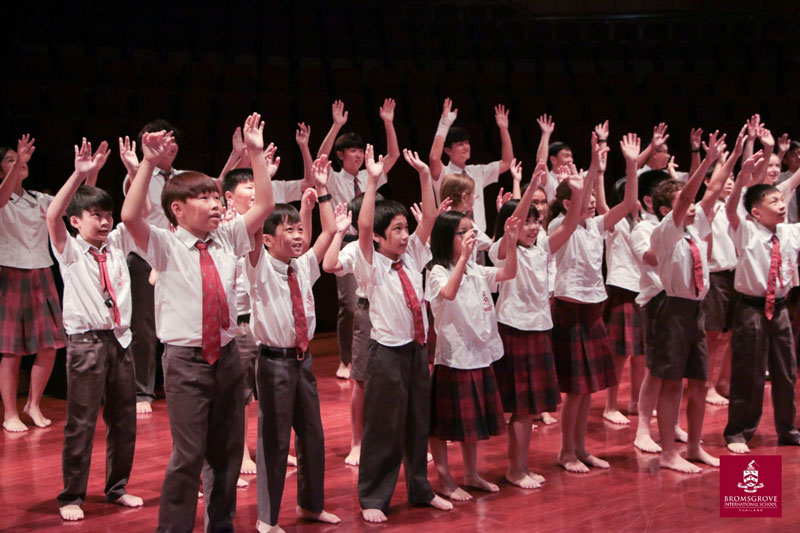 Gospel Harmonies and the beauty of chance
Jeremy has that wonderful 'why not give it a go, it will be good for them' mentality. So, he invited his Year 11 and Year 12 classes to join in with the Year 6's. I set them a challenge to work out a harmony on the last phrase in each verse of a song called 'Roots,' Wo ho, na, na, na. It was probably the most inspired moment. They had to think on their feet, communicate and take a chance.
What they came up with was beautiful. We got them to show a few of the Year 6's, the harmony and extended the refrain by joining in on the piano.
Peer learning is a powerful thing. Glorious!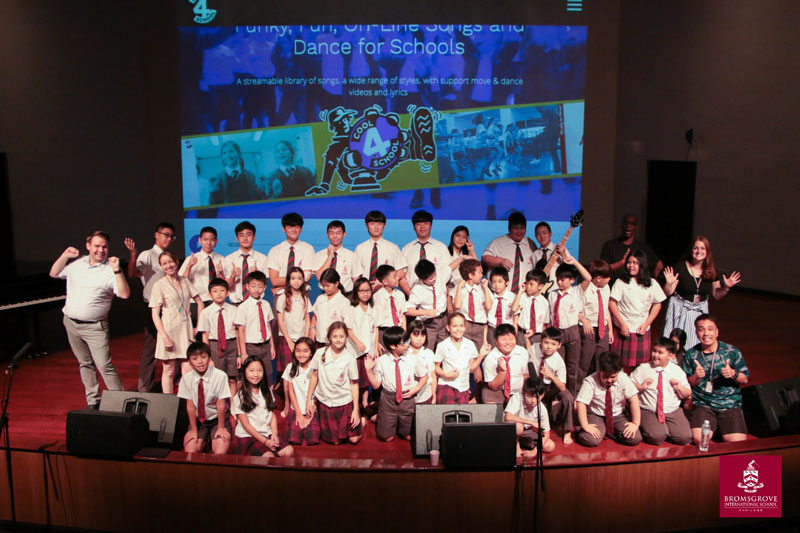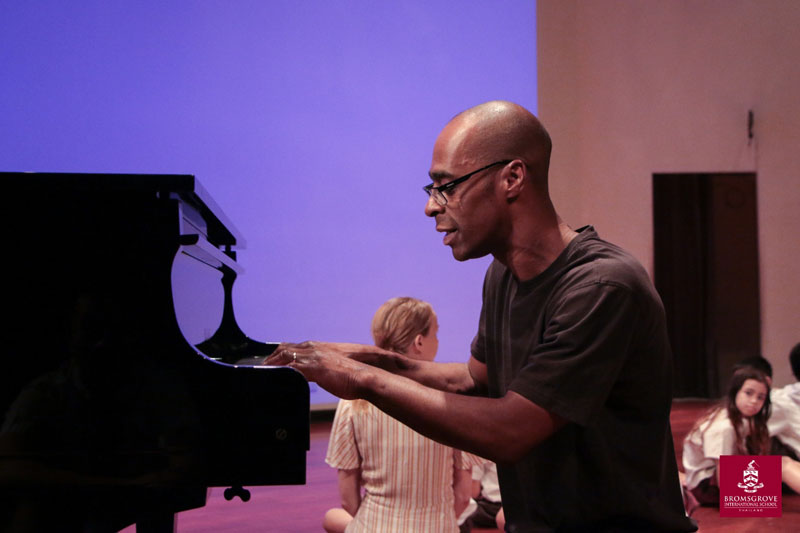 Feedback: Head of Music

'The feedback from staff and students has been fantastic!'
Here's to Bromsgrove International School!